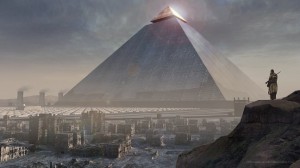 After a great deal of research into various forms of existing, massive buildings, the original concept (as developed in the original three short stories) of twelve towers was replaced with one massive Pyramid. Brian Skiba and Scott Frankel moved on this concept in early 2011 with Peter Rubin as a means of developing a building that not only reached for the heavens, but offered ample volume in its interior to suggest that entire generations of inhabitants might live within its confines and never want for the outside.
Peter created a full 3D model and applied it against the foreground of what was then, when we were working on the Feature film, a distant future in which the city surrounding the Pyramid had been left to ruin.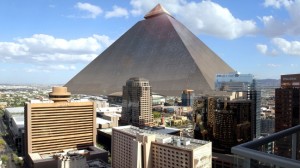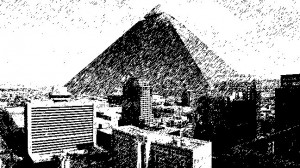 These two images were quickly assembled (using the open source GIMP) as a means of testing the concept of a giant Pyramid built in an existing city landscape. While the superposition of the Pyramid is roughly 1/4 the intended 1 x 1 x 1 mile structure, it easily conveys an imposing sense of power and domination.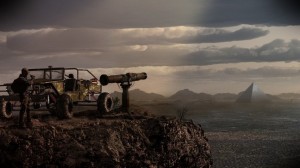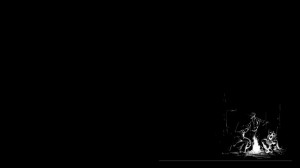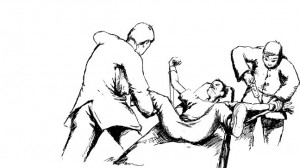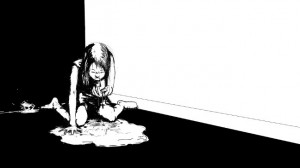 These sketches developed by Josh Dean helped to convey a sense of urgency and tension as we developed the Feature story in 2010-11. At that time, we were focusing more on the characters who existed outside the Pyramid amd worked to rescue their loved ones, rather than those characters on the inside, as we developed in the Short film project in the spring of 2012.
Upper left: a scene from the original short story "Sands" in which Jon prepares to launch an assault on the Pyramid in order to knock out its communication system which allows for the remote control of humans under the power of the nanobots.

Upper right: a campfire of the renegades who reside on the Mogollon Rim.

Lower left: Jon being held down by the Elders before his father, Chao (now Ethan) runs into the room to rescue him, having learned just moments earlier the true intent of the nation-State domination.

Lower right: a girl who rejects the nanobots involuntarily will likely be left crippled or dead, a casualty of the Sorin Biotech research unchecked.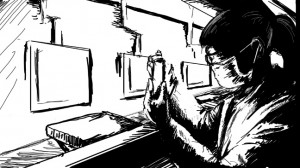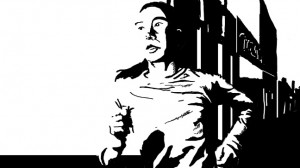 These final two sketches developed by Josh Dean helped us portray two new scenes developed for the Short film by Director Joel Kaye and Producer Kai Staats.
Left: a lab at Sorin Biotech which will be displayed behind Victoria in her recruit orientation.

Right: Monica as she tries to escape the thugs in the opening scene.